Pretty Bay with sandy beach in Birzebugga
Pretty Bay in Birzebugga, south east Malta, has a sandy beach. It's mainly used by local people - it's a fair distance away from the tourist destinations north of the island. There are various small beaches and coves around Malta that are small treasures, not commercial in any way and ideal for a quiet read and escape in the sun.
There are cafes and restaurants near the beach for meals, snacks, drinks and toilets. Also a childrens' playpark, a promenade and bus station for buses into Valletta.
There are pleasant walks along the sea front. Freeport, a large busy container port is located at the southern end of Birzebugga and provides employment in the area. If you do not object to views of the port, it can be a pleasant place to visit. Ancient salt pans are carved out of the rock on the beach near the container port could be something interesting to show your chldren.
Special offer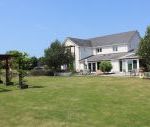 Was 3350 GBP, Reduced to 2250 GBP
Read more about availability