Doors and doorways in Malta
House signs for sale - the style appears to be a cross between English and Spanish
One thing the visitor to Malta notices is doors and door furniture such as knockers and signs. Many of the doors exhibit symmetry; double doors tend to have a knocker on each side of the door, sometimes just a plain knob but often in the shape of a fish or dolphin.
There is a wide variation in the style and colour of doors unlike mass produced ones in the UK. Many are individually craftsman hand-made of hard wood and very attractive - almost works of art.
Houses often have religious names or British sounding names. A religious plaque of the Virgin Mary or one of the saints. is another popular item of decoration on a wall beside a front door.
The doors and doorways in the medieval city of Mdina are especially impressive and again reflect the double door and ornate knocker trend.
For phtographers or artists, the doors of Malta make an attractive picture, especially when framed by climbing plants, pots of colourful geraniums or as in the photograph below, a line of washing.
Sometimes bamboo curtains or wooden blinds are hung over the doors in the summer to protect them from the ravages of the fierce glare of the sun.
The Maltese, especially old ladies sit on the doorstep, or on a chair on the pavement beside their front door, enjoying the cooler air in the evenings.
Most are pleased to have conversations and pass the time with passers by.
Malta is a very good destination for photographic holidays because of the range of subjects. Not only is there fabulous scenery, good architecture and lots of colour, but you also have the chance of obtaining excellent character portraits because the people are so friendly,
Special offer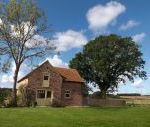 Was 500 GBP, Special Price 450 GBP
See the Offer Details including available dates